About Mt Aso -Active Volcano-
The active volcano Mt Aso is a symbol of Kumamoto. A few-time catastrophic eruption occurred back in history, brought us some heavy blows but also blessings to human's life, such as the beautiful scenery offered by its caldera and Onsen (Hot springs). On this tour, take a ride to active volcano Mt Aso in the guide's car and plunge on into the caldera of the active volcano that ranges 25 km from North to South and 18 km from East to West. You will explore within the caldera where around 45,000 people have lived close to the active volcano. It's quite unusual that human have formed the sustainable community, reclamation work and even railway operation inside the caldera of an active volcano, worldwide. At the moment, the crater of Mt Aso is open and possible to visit to view its live crater.
HIGHLIGHTS
Shirakawa fountainhead
We start off the tour from Kumamoto city (if you stay in Kumamoto) and head to Aso area. We go into caldera, the volcanic area inside the outer rim of Mt Aso and will view its landscape and part of the peaks of Mt Aso. First, we visit Shirakawa fountainhead, where 60 tons of water gushes up per minute and it is the source of our drinking water in Kumamoto. You can also draw this crystal clear water from the source if you have a plastic bottle. No worries, you can buy a plastic bottle at the source if you don't have it.
Kamishikimi Kumano Imasu Shinto Shrine
Next, we visit a hidden spot "Kamishikimi Kumano Imasu" Shinto shrine which offers a magical atmosphere with a staircase surrounded by Japanese cedar trees. We walk up to the shrine which sits at the top of the staircase through 260 steps. And furthermore, walk up to the icon of the shrine, "Ugedo Iwa". This is a beneficial spot in Shinto, a symbol of "getting through" of its shape, a hole in a rock wall.
Mt Aso's Caldera
We make a brief stop at where the landscape of caldera is fabulous on the way to the live crater.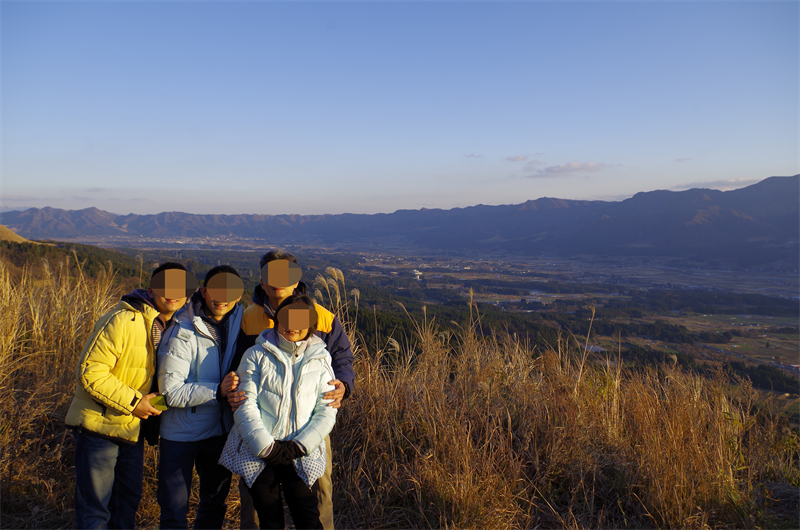 Finally, we drive up to view the live crater of Mt Aso. At the moment, the crater is CLOSED due to its high volcanic activity, has been erupting for around 2 weeks as the picture. However, we can take a close view to the crater at its foot and view a magnificent landscape of an active volcano.
Then we move on to view a landscape of the magnificent volcano with the beautiful scenery of a grass land "Kusasenri" (=1,000-mile grass land). It's a wonderful experience to take a short hike up to a small hill on the filed of Kusasenri, viewing the landscape of Mt Aso's peaks and the crater.
Komedzuka and Cattle in pasture
After the visit to the crater and Kusasenri, we make a stop at a beautiful pasture where local cows and horses are grazing, and a beautiful mound Komedzuka. You can have a close look at them by the pen and possibly feed them.
At the end of the tour, you will be dropped off at a local train station Higo Ozu, where you can take a train back for Kumamoto station in 40 minutes, faster than my ride. If you have Japan Rail Pass, you don't need to pay for the fare.
ITINERARY & PRICE
(example)
07:30 Pickup at a hotel in Kumamoto city / Kumamoto station
09:30 Shirakawa fountainhead
10:20 Landscape of Mt Aso and Caldera
11:00 Kamishikimi Kumano Imasu Shinto shrine
Lunch
13:30 Mt Aso's crater (depending on weather conditions and volcanic activity)
14:30 Hike at Kusasenri
15:30 View grazing pasture
17:00 Drop-off at JR Higo Ozu St and you take a train back for Kumamoto St
PRICE: 30,000 JPY (Shared between number of people) + 6,000 JPY per person
(children from age 4 up to age 16; 50% off, under age 3; free of charge)
1,000 yen Discount pp if the group gets 4 persons or more
Max number of people: 7 (in my mini van, unless large luggage)
9 (hiring a 10-seat van : plus 30,000 yen)
13 (hiring a 14-seat van : plus 33,000 yen)
Aso Tour Includes:
Tour Customization / Transport / Sharing Photographs via Google Drive
Helicopter Flight
If you would really like to have a look at the crater in a different way, helicopter service is highly recommended. It costs some extra money to get this though, you can enjoy a luxurious moment like no other ordinary tourists do. But please note this service is only available from Friday – Monday, national holidays and the day after each of them. Check out the following footage what it is like when you get this service.
Guide Fee: 5,000 JPY per person (minimum 2 passengers)
Flight Duration: Around 4 min
Capacity: 3
Local Specialty
Why don't you have Aso's specialty, "Aka Ushi" (Red Beef)? The beef comes from a unique breed of Japanese beef cattle called "The Japanese Brown". Here in Kumamoto, they are called Aka Ushi or Red Beef, named after its colour of meat. Generally speaking, Japanese beef (a.k.a. Wagyu) is well known for its marbled meat with various amount of intramuscular fat, but Aka Ushi contains less fat and good lean meat pastured on the vast fertile field with green grass growing thanks to the volcanic soil. You can cook local beef as you like over charcoal in a local restaurant "Takamori Dengaku no sato" (高森田楽の里).
Or if you prefer a casual meal, you could also have local beef in a different way. "Beef bowl" or "Akaushi don", a rice bowl topped with sliced beef, is now a very popular menu among tourists can be seen in Aso.
ROUTE
Related Tours
Takachiho & Aso

Around Aso

Kurokawa

Kuju