Floods in south of Kumamoto
We sustained severe damages from floods that washed away local people's lives, caused by torrential rains which we couldn't have even expected or forecast until its very last minute and unfortunately it happened in the midnight suddenly around 4 am on the 4th July morning. I didn't expect this, either did most of other people living in south of Kumamoto.
The central areas of Hitoyoshi were sunk under water (up to 8 – 9 meters high) and the villages along Kumagawa river (or "Kuma river", blue line on the following map between Hitoyoshi and Yatsushiro) were washed away. We have lost 60 people , and 3 people still missing.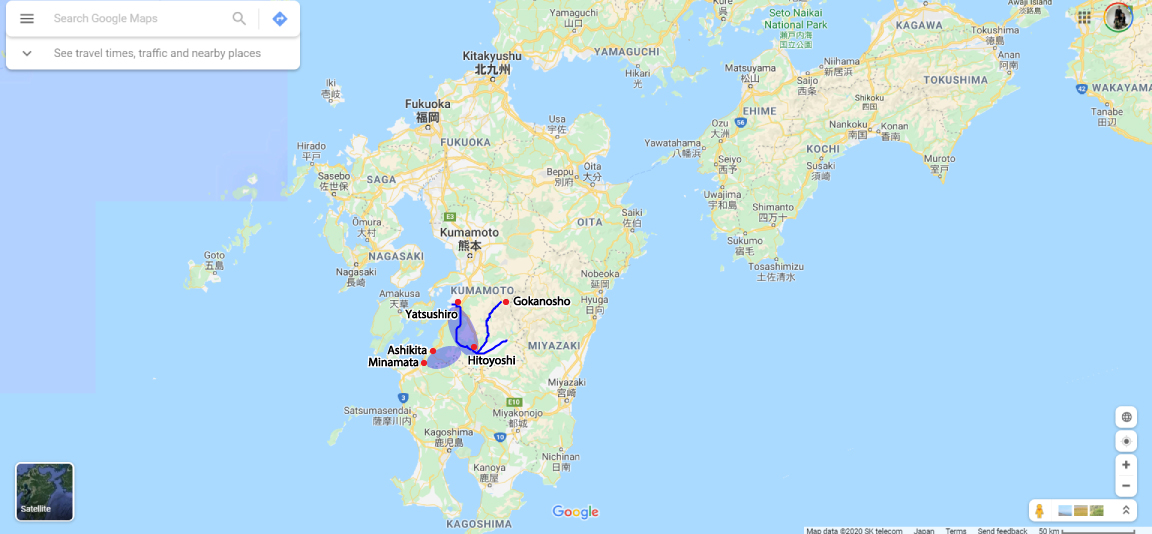 See these pictures below, everything was ruined there. Kumagawa river (Kuma river) is our mother river who usually gives us blessings such as beautiful scenery, fishing, rafting, sightseeing and so on. But she gave us a tremendous disaster this time. This is nature, which we can't refuse, no matter how we try to.
Here is a post about this disaster below.
Your warm helping hands would be much appreciated. Should you find a donation site, we hope your warm helping hands to those who are suffered from this disaster.
Hitoyoshi Ryokan, one of the most beautiful traditional Japanese inns in Hitoyoshi, has started the following crowdfunding campaign to raise funds in order to rebuild their accommodation, business and lives. Your warm helping hands would be much appreciated.
PS. We are all safe here in Gokanosho, so far.
COVID-19 Situation in Kumamoto & Message to you all
We have had around 500 people confirmed positive for COVID-19 out of 1.76 million inhabitants of Kumamoto Pref.
Restaurants, shops, stores and markets are fully open and people are working as normal back in their workplaces here in Kumamoto as well as all the other Prefectures of Japan, thanks to our custom which is to keep ourselves clean by frequently washing hands, gargling, having a bath nearly every evening, wearing a mask and avoiding to gather in crowds. So, please follow us to keep yourselves and people around you safe.
I've been safe and healthy. And I've been doing some mountain work and road work in Gokanosho to feed my family. I will make efforts to continue being a professional tour guide and am hoping you will visit Japan when this is all over!
Check out my BLOG if you would like to see if I am alive.
Introduction
Hi, my name is HASHIZAKI Schingo (橋崎 晋吾), just call me Schingo, my given name.
I am a National licensed English speaking tour guide living in a mountainous place "Gokanosho" which is a collection of 5 sparsely populated villages. I've been working as a professional tour guide for over 8 years in all the prefectures of Kumamoto, Miyazaki, Oita, Kagoshima, Saga, Nagasaki and Fukuoka on Kyushu island. To become a National licensed English speaking tour guide, I passed all of the 4-subject (English / Japan's Geography / Japan's History / Common knowledge [Politics / Economics / Industries / Culture]) examination which is held only once a year.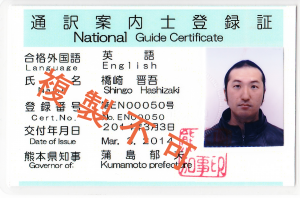 I have lived in Kumamoto Prefecture for over 40 years in total since I was born. The more I learn about Kumamoto, the more I get to love Kumamoto. We are very proud that Kumamoto gives us Japan's beautiful aspects such as mountains with full of trees, clean rivers, various agricultural products, historical sites, traditional events, tasty local foods, the way of living which have been imparted from generation to generation, and so on.  Should you visit Kumamoto and its surroundings, and would like to have some really good experiences of Japan, just ask me before you go any further. I'd be pleased to give you some suitable advice on what you need and tour arrangement.
Upcoming Tours
If you are searching for an existing tour, please go to UPCOMING TOUR page below

or click the banner on the right side (PC) or bottom (Smart phone / Tablet type media) of this page where you can find tours that are already booked by someone but still some more slots are available. This is a great opportunity for you to join the tour for a cheaper price. Check them out!
My tour-guiding service includes
– Make up your customized tours
– Show you around the areas / spots / facilities  with background explanations
– Learning Japan's culture / custom / economics / history and more
– Transport service in the guide's 8-seater mini van that accommodates up to 7 people unless big luggage
– Group photos (taken with my single-lens reflex camera) shared on Google Drive (photos are available even without a Google account)

>>> You can get group photos as below, have a look! <<<

Payment methods
CASH on the spot by the end of tour
or
PayPal in advance
*You can pay by PayPal by clicking the following banner
Gallery from my tours
My Guidable Areas
– Kumamoto Pref.
(Gokanosho / Kumamoto city / Mt Aso / Yatsushiro / Hitoyoshi, etc)
– Miyazaki Pref.
(Takachiho)
– Fukuoka Pref.
(Fukuoka city / Dazaifu)
– Kagoshima Pref.
(Kagoshima city / Mt Sakurajima / Chiran / Mt Kaimon / Nagasaki-bana)
– Nagasaki Pref.
(Nagasaki city)
– Oita Pref.
(Kuju / Beppu / Kunisaki peninsula)
Me and my family
Cheers, Rock and Roll.