Stop Press!
At long last, Japan will allow visa-free, independent tourism and abolish a daily arrival cap as of Oct. 11, Prime Minister Fumio Kishida said Thursday. https://t.co/AkGospJTlp

— The Japan Times (@japantimes) September 22, 2022
Old Requirements for border entry 
from 7th Sep until 10th Oct 2022
All travellers from ANY countries are welcome
Certificate of vaccination (at least 3 times e.g. 2 shots + 1 booster)
Flight tickets & all hotel bookings to be made by the travel agency 
Visa – you need to get the ERFS certificate via the travel agency who sponsors your Japan visit to apply for a Visa

Tour itinerary with flights info + hotel bookings (names of the hotels and their addresses) to be received and recognized by the travel agency who sponsors your Japan visit
Your sponsor is responsible for you during your stay in Japan
Sounds complicated, but this is a great opportunity for you to enjoy your trips across Japan this time when you don't see big crowds of tourists AND JPY is at the lowest levels against not only USD but also most other currencies in the past 24 years (since 1998).
With the above requirements, those who visit Japan can almost freely travel across the country of Japan starting the 7th of September. You can go anywhere you want to as long as you wear a mask when staying indoors and taking public transports, our government says there's no need for you to be masked outdoors.
Sounds still very strict compared to many other countries' border entry, but at least it's going to be possible for you to visit Japan and enjoy touring.
Introduction
My name is HASHIZAKI Schingo (橋崎 晋吾), just call me Schingo, my given name.
I am a National licensed English speaking tour guide, living in a mountainous place "Gokanosho", a collection of 5 sparsely populated villages situated in the heart of mountains Kyushu.
I've been working as a self-employeed professional tour guide for over the last 8 years guiding in all the prefectures of Kumamoto, Miyazaki, Oita, Kagoshima, Saga, Nagasaki and Fukuoka in Kyushu. And despite the pandemic that devastated all across the globe, here I stand still. I survived!
In 2019 alone, I guided 178 groups from 26 different countries such as Germany, Austria, Switzerland, Singapore, Malaysia, USA, UK, France, Australia, Thailand, Taiwan, the Philippines,  the list goes on. And received not bad reviews from them on TripAdvisor and awarded with the following certificate.
JFYI, below is my certificate for a National licensed English speaking tour guide issued by the Japan Tourism Agency which I got by passing all of the required 4-subject (English / Japan's Geography / Japan's History / Common knowledge [Politics / Economics / Industries / Culture, etc]) examination held only once a year.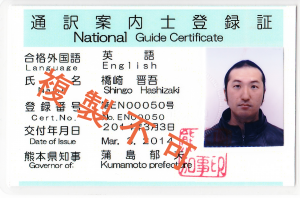 I have lived in Kumamoto Prefecture for over 40 years in total since I was born. The more I learn about Kumamoto, the more I get to love Kumamoto. I am very proud that Kumamoto gives us Japan's beautiful aspects such as mountains with full of trees, clean rivers, various agricultural products, historical sites, traditional events, tasty local foods, the ways of living which have been imparted from generation to generation since the ancient times, and so on.  Should you visit Kumamoto and its surrounding places, and would like to have some really good experiences of Japan, just ask me before you go any further. I'd be pleased to give you some suitable advice on what you need and tour arrangement.
Upcoming Tours
If you are searching for an existing tour, please go to UPCOMING TOUR page below

or click the banner on the right side (PC) or bottom (Smart phone / Tablet type media) of this page where you can find tours that are already booked by someone but still some more slots are available. This is a great opportunity for you to join the tour for a cheaper price. Check them out!
My tour-guiding service includes
– Make up your customized tours
– Show you around the areas / spots / facilities  with background explanations
– Learning Japan's culture / custom / economics / history and more
– Transport service in the guide's 8-seater mini van that accommodates up to 7 people unless you have big luggage
– Group photos shared on Google Drive (available even without a Google account)

>>> You can get group photos as below, have a look! <<<

Payment methods
CASH on the spot by the end of tour
or
PayPal in advance
*You can pay by PayPal by clicking the following banner
Gallery from my tours
My Guidable Areas
– Kumamoto Pref.
(Gokanosho / Kumamoto city / Mt Aso / Yatsushiro / Arao / Hitoyoshi, etc)
– Miyazaki Pref.
(Takachiho / Starting from Hososhima port)
– Fukuoka Pref.
(Fukuoka city / Dazaifu)
– Kagoshima Pref.
(Kagoshima city / Mt Sakurajima / Chiran / Mt Kaimon / Nagasaki-bana)
– Nagasaki Pref.
(Nagasaki city / Hasami)
– Oita Pref.
(Kuju / Beppu / Yufuin / Kunisaki peninsula)
– Saga Pref.
(Arita / Imari / Karatsu)
Me and my family
I've married for 9 years and have an 8-year-old son.