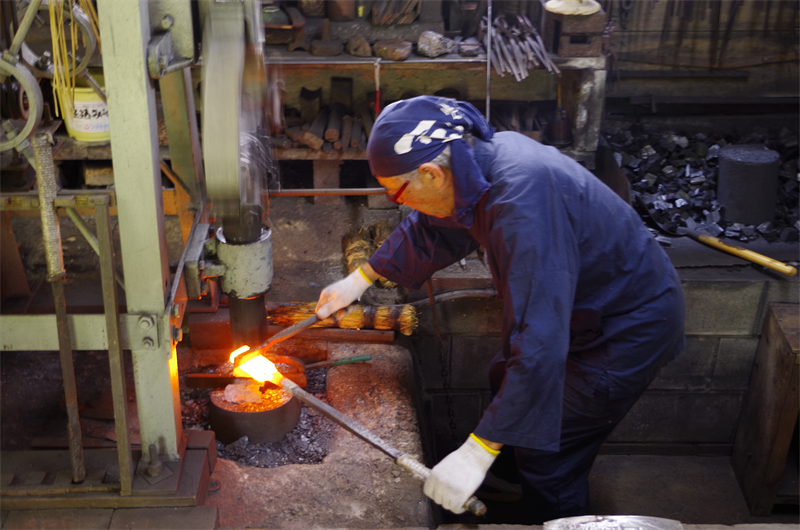 About Mr Matsunaga and Japanese swords
Mr MATSUNAGA Genrokuro is a living professional samurai sword smith making high quality samurai swords for living. Japanese swords were worn by Samurai until they lost its position as the master of military force and privilege to wear swords until 142 yeas ago when the new government (Meiji government) achieved a great restoration to shift the old-fashioned society to the modern civilized society.
Samurai swords are well known to be unbreakable, unbending and razor sharp. For centuries, Samurai swords have been considered the soul of Samurai. That is the reason why we Japanese people walk on the left side of roads because of Samurai's walking habit. They wore one or two swords on their left waste and hated to have the swords touched by anyone. To avoid this, they walked on the left side.
After the Meiji restoration, many of sword smith had no choice but quit living on sword making. Many of them shifted to kitchen knives or agricultural tools, but Mr Matsunaga chose to be a Samurai sword smith in this modern period and now he is an awarded smith.
What you can do
During this visit, you will inspect his workshop and learn how he forges samurai swords using high quality materials and go into his house to view his collection of Japanese swords and armours as you can check out in the following gallery. AND you can also try swinging the REAL Samurai sword to cut a rolled Tatami post lectured by a sword master. Just check out the following footage.
Gallery
His workshop is situated in Arao city, northern part of Kumamoto, so I'd recommend you to combine a half day Kumamoto city tour in the morning to this visit to Mr Matsunaga's workshop.
Location



Related Tours