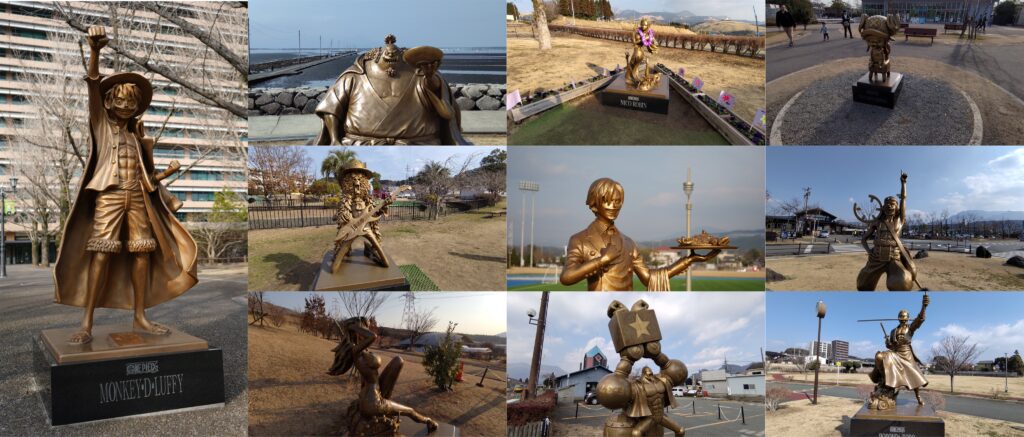 Our proud Japanese Anime, ONE PIECE!
This is a full day tour to visit all the statues of Straw Hat Pirates that are situated across the northern part of Kumamoto Prefecture, or any of them that you would like to visit, and also to get their miniatures.
Beside, it includes a bit of sightseeing to Mt. Aso, a symbol of Kumamoto as the "Land of fire".
Standard Itinerary
08:55 Pick up at JR Higo Ozu station
09:00 Roronoa Zoro / miniature
09:45 Usopp / miniature
10:20 Nico Robin / miniature
11:00 Mt Aso
12:00 Franky / miniature

Lunch
13:00 Nami / miniature
13:50 Sanji / miniature
14:40 Chopper / miniature
15:15 Luffy / miniature
16:00 Brook / miniature
17:00 Jinbe / miniature
17:30 Drop off at JR Uto station
Pricing
Basic charge 42,000 JPY + (6,000 * number of people)

Refer to the following link to see the itinerary and pricing.
https://docs.google.com/spreadsheets/d/1t-TzrZdfDVGELvgbJovanTDYqs_3PDPqWELHxEl4tE4/edit?usp=sharing
Route
Contact
WhatsApp: +81 90 1976 1812
LINE: schingo.h / 09019761812
Email: schingo.tk@gmail.com