About Kuju
Kuju area is located between Beppu and Aso on the highland of Kyushu mountains named "Aso Kuju National Park". If you are thinking of visiting Yufuin or Beppu after Aso, it is a good idea to visit here as well.
Access
Being located in the middle of a highland, Kuju is not very easily accessible by car from any big cities. Taking a bus from Beppu is the easiest way to get there. Check the following PDF to learn how/what time to take a bus to get to Kuju.
From Beppu/Yufuin
https://www.kyusanko.co.jp/sankobus/english/table/odantt2.pdf
From Kumamoto/Aso/Kurokawa
https://www.kyusanko.co.jp/sankobus/english/table/odantt1.pdf
But if you would like to enjoy a full day tour around Kuju without concerning the time limit, just refer to the following article and ask me. You are always welcome.
Highlights
Makinoto Pass
On the way to Kuju from Aso area (incl. Kurokawa), you will drive over a pass named "Makinoto" where you can get spectacular view of Mt Aso on the south side and Kuju on the north side. As it's a winding road, so you should be well prepared if you often get carsick.  On the top of Makinoto pass is located at 1,333 meter above the sea level and has entrances to trailheads (beginning of trails) of the range of Mt Kuju including Mt Nakadake, the highest peak (1,791 m) on the mainland of Kyushu.  If you would like to enjoy a trek, you will star t from here.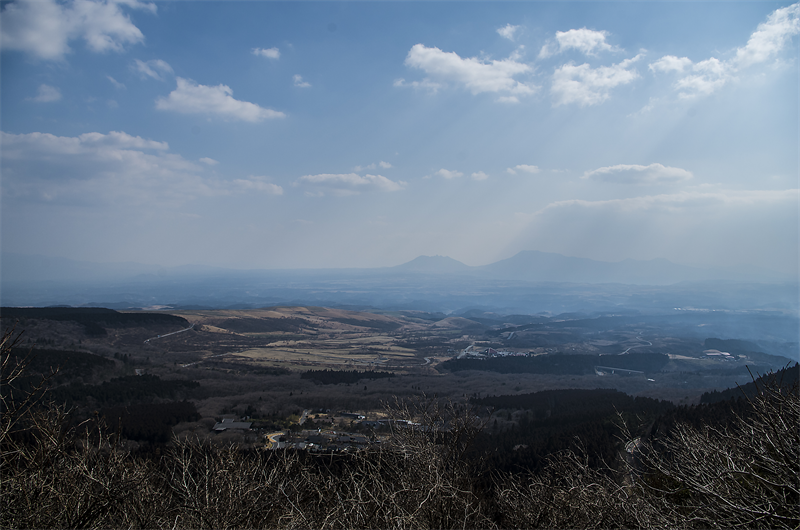 Chojabaru plain
After passing thorough Makinoto, you will get to this plain stretching out on Iida highland with a great view of a range of Mt Kuju. Stop here on the roadside for the view.
Kokonoe Yume great suspension bridge
This bridge is renown for its height and length, 173 m (567 ft) high above the river and 390 m (1280 ft) long, and durable enough to load 1,800 adults at a time. In cold seasons, be sure to wear jackets as you cross because of a strong cold wind blowing through the valley. You will enjoy not only its height but also a great view of beautiful waterfalls and background of the range of mountains.
Entrance Fee:
500 yen pp / adult    200 yen pp / under 12 yo   Free / under 6 yo
Kuju Flower Park
This beautiful park filled with tens of thousands of flowers is located surrounded by the range of Kuju mountains, not accessible by train or bus unless you rent a car. Let me show you the photos in the gallery below, which I took last year. They have planted a total of 3 million flowers of 300 species in this park so you can enjoy the bloom of each season's every time you visit. From mid spring (mid Apr) to early summer (Jun) and autumn (Sep – Oct) are highly recommended. Let's walk through the wave of various flowers enjoying the fragrance that are brought on the wind.
Entrance Fee:
1,300 yen pp / over 16 yo   1,100 yen pp / over 70 yo
500 yen pp / 5 – 15 yo
After visiting Kuju area
After visiting the above spots, you move to either Oita or Kumamoto/Aso. For Oita, Beppu should be the next destination. You will drop off at a hotel/ryokan in Beppu or do some sightseeing if time permits. For Kumamoto/Aso, the bext destination should be Kurokawa Onsen town. Please refer to the "Related Tours" below.
Related Tours
Beppu

Kurokawa Onsen