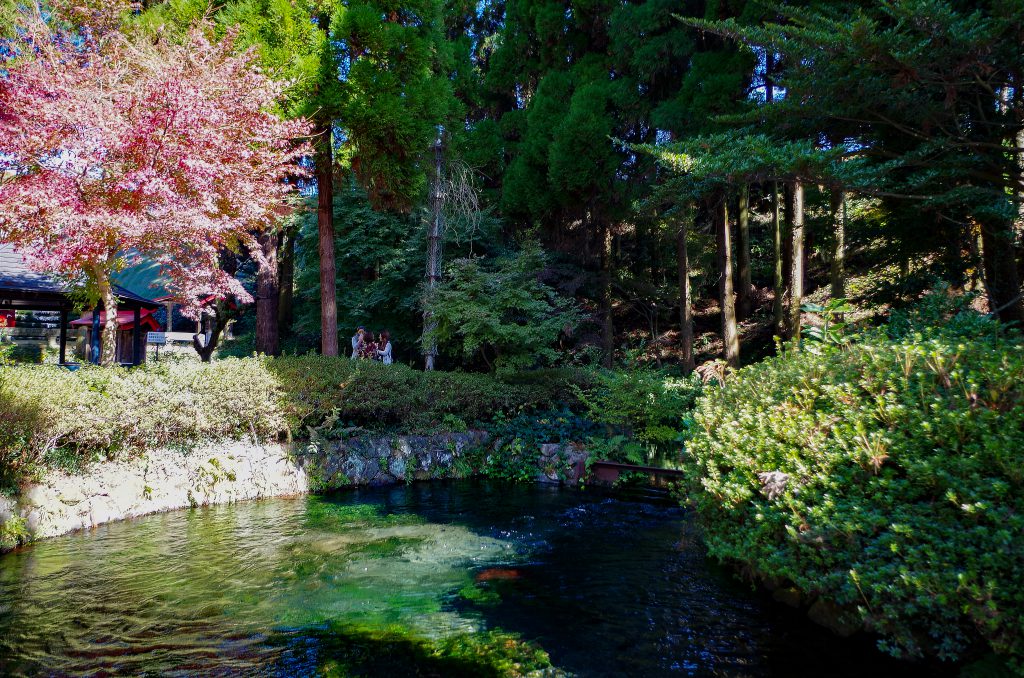 Shirakawa Suigen (白川水源) is a fountainhead, one of Shirakawa rivers' (白川 = White river) sources, which gushes up 60 tons of water per minute situated in Minami Aso village which is located in the southern part of the caldera. Shirakawa river runs from Mt Nekodake, one of the five peaks of Mt Aso, through the city of Kumamoto and joined with Kurokawa (黒川 = Black river) in Kumamoto city. The name of Shirakawa was named after its crystal-clear mineral water that was purified during seeping underground through the layers of volcanic soils and lava of Mt Aso.
At Shirakawa Suigen, you can bottle the spring water, so bring an empty bottle or buy one for 100 yen here. It would be nice tasting it as it is, or drink Shochu (Japanese distillation) made from rice, one of Kumamoto's local specialties, mixed with it.
If you are interested in Japanese culture, try making Washi (和紙) = Japanese traditional paper guided by a shop staff. It takes a while until the paper dries, so you should do this activity before the visit to the fountainhead.
LOCATION



It looks Shirakawa Suigen is accessible straight on the highway R57 crossing a bridge from Kumamoto, however, they were completely destroyed at the following point due to a massive landslide caused by a series of earthquakes occurred last year. So you need to make a detour to either of north side or south side.