Floods in south of Kumamoto
We sustained severe damages from floods that washed away local people's lives, caused by torrential rains which we couldn't have even expected or forecast until its very last minute and unfortunately it happened in the midnight suddenly around 4 am on the 4th July morning. I didn't expect this, either did most of other people living in south of Kumamoto.
The central areas of Hitoyoshi were sunk under water (up to 8 – 9 meters high) and the villages along Kumagawa river (or "Kuma river", blue line on the following map between Hitoyoshi and Yatsushiro) were washed away. We have lost 60 people , and 3 people still missing.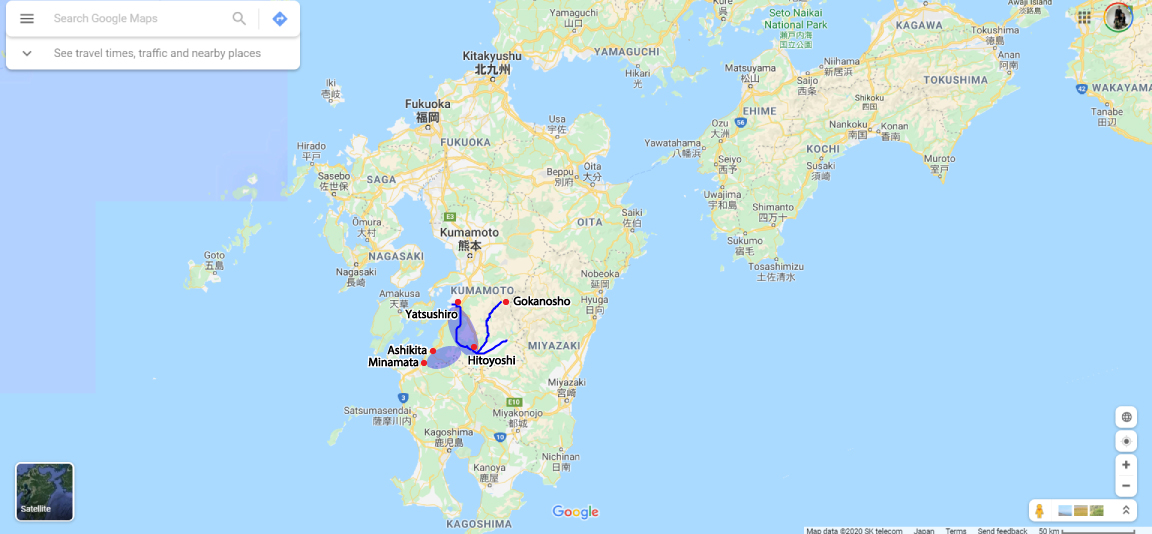 See these pictures below, everything was ruined there. Kumagawa river (Kuma river) is our mother river who usually gives us blessings such as beautiful scenery, fishing, rafting, sightseeing and so on. But she gave us a tremendous disaster this time. This is nature, which we can't refuse, no matter how we try to.
Here is a post about this disaster below.
Your warm helping hands would be much appreciated. Should you find a donation site, we hope your warm helping hands to those who are suffered from this disaster.
Hitoyoshi Ryokan, one of the most beautiful traditional Japanese inns in Hitoyoshi, has started the following crowdfunding campaign to raise funds in order to rebuild their accommodation, business and lives. Your warm helping hands would be much appreciated.
PS. We are all safe here in Gokanosho.